Sarah & Leo
Our biggest fear was that we would feel awkward and the pictures would then look awkward because of us. That definitely didn't come true! We felt super comfortable! Especially by the time the wedding finally came around, we were just excited to have Marissa take our pictures again. The engagement session was so fun and easy going, and we totally trusted Marissa abilities when it came to our wedding photos! On top of Marissa's photo abilities, her communication was amazing! It was timely, helpful, kind, and efficient considering we were planning our wedding in the midst of covid-19. Finally, Marissa is the kindest, funniest, and most easy-going photographer out there. The photos you get will be INCREDIBLE, colourful, clear, and artistic. You honestly need to hire her!
Nicole & Christian
I loved working with Marissa and will for sure be hiring her in the future! She did BEAUTIFUL wedding photos for us and I could not have been happier with them! We got married in the midst of the pandemic and due to restrictions of people couldn't have an actual photographer at the wedding so we hired Marissa to take some photos after and she was incredible! We felt totally comfortable with her (and my husband is a huge introvert so this is impressive), we had so much fun, and the entire experience was fantastic! I would highly recommend her to anyone!
Kim & Kyle
We hired Marissa as our wedding photographer and forever grateful that we got her to capture our special day. One of the main part of a wedding is your photographer cause they capture the moments, the laughter, the tears and the love. You want to go back and look at those photos when you celebrated your 1st wedding anniversary or your 10th anniversary, or just go back and look at those photos when you got into an argument with your spouse and remember the day and the promises you made to each other. Marissa's work tells a story and having a great professional photographer is a bonus. Marissa is the type of person you can laugh with the whole day, right away she got very comfortable with the other wedding vendors and they felt the same way which is very important you have to consider. You can find a lot of photographers out there but you need to find someone like her where you and your partner can be comfortable with. Forever thankful to Marissa for our beautiful photos. ❤️
Shayna & Tyson
Marissa did our engagement pictures on the coldest day of the winter and was laughing and smiling the WHOLE TIME! Although we all couldn't feel our feet she made the experience so fun and SO worth the numb toes.
My fiancé and I have never had a professional photographer for just the two of us so we were pretty nervous and awkward prior, but it literally just felt like we were hanging out with a friend! I cannot express how excited I am that we hired Marissa to capture our big day later on this year, I'm so glad she will be spending the day with us.
10/10 would recommend if you like to have some fun and like to spend time with people who radiate happiness.
Sydney & Devon
Marissa was an absolute pleasure to work with. She made two people who are not super comfortable in front of the camera feel awesome, have a great time, and truly show our personalities. Having you photograph our wedding felt like we had another friend celebrating with us while our family and wedding party loved Marissa! Our photos turned out better than we could have ever hoped and can't stop looking at them everyday!
Riley & Riley Kehler
Marissa is bubbly and so much fun, she will you feel so comfortable you will almost forget that you are having pictures taken of you. You will feel like you have known her for years even if you just met that day. Our wedding photos were unreal and different than the traditional wedding photos in the best way we could imagine! Overall, Marissa exceeded our expectations beyond what we could have ever expected! Without her we would not have these memories we can now cherish for the rest of our lives!
Paige & Chris
Going to our engagement Chris and I were both nervous about how everything would go although turned out we had nothing to be worried about. It was a very relaxed experience, none of the photos ever felt too stiff or 'posed', and we got many compliments on how candid all the photos were which was a highlight for us! We can't thank Marissa enough for coming out to Victoria Beach to capture this special engagement for us! We can't wait for her to capture our wedding day!
Jessica & Jeremy
Marissa is simply the best. There is no other way to put it.
My boyfriend and I had a couples shoot done with Marissa, (which was our first ever photo session together) and we were nervous and didn't know what to expect at first. But Marissa made us so comfortable and at ease, our faces were hurting when we left because Marissa had us laughing the entire time.
Not only were the photos absolutely AMAZING but the experience of shooting with Marissa was so much fun. Marissa cares so much about her clients and takes the time to learn about them and get to know them before and during the photo shoot which makes the experience even more special.
In 24 hours Marissa already had sent us a folder with several previews which got us even more excited for the final product which was also quickly sent our way not long after.
Marissa also provides her clients with a TON of photos after the session, (this is something that not every photographer does, some only provide 15-20 images!!) but we were so surprised to see that she took so many different amazing images within a 60 minute session, it was awesome!
The photos Marissa took of my boyfriend and I are ones that we will treasure forever.
We cannot thank Marissa enough for her amazing work. Don't ever hesitate to book your next couples session, family session or wedding with Marissa, we cannot wait to work with her again!
Sam & Dustin
Marissa was AMAZING. I originally booked her for an anniversary shoot and my boyfriend (now fiancé) contacted her to turn it into a surprise proposal! They pulled off it off SO WELL! I couldn't be happier with how the photos turned out. I've recommended her to so many of my friends and family. I'd always work with her as she makes you so comfortable and feel beautiful. Highly recommend!!
Breanne & Cole
We are so happy we chose to work with Marisa for our engagement and wedding photos. She is so kind hearted, takes a genuine interest her clients and did a fantastic job making us feel comfortable. We recently received our engagement photos recently (a couple weeks after they were done, very efficient) and she did not disappoint! Great quality photos !! We love her!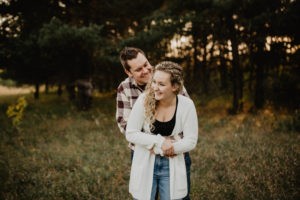 Madison & Harley
Marissa is the most outgoing and bubbly person you will meet. She is quick to become more than just a photographer; she takes time to get to know you before your session and takes genuine interest in what your hopes and dreams are for your pictures. My first experience (and definitely not my last) with Marissa was for engagement pictures and let me tell you she blew it out of the park. She made us both feel so comfortable in front of the camera. She captures amazing candids and memories. The thing I love most about her pictures are they look natural, they are not over posed and they are edited to perfection. She is so quick and efficient with getting pictures back in a timely manner. I honestly can not say enough good things about her. You will not regret your decision for choosing Marissa for any of your photo needs!
Ang & Owen
Looking back I had no fears about hiring Marissa as our wedding photographer. I had so much confidence in her and absolutely loved her work! Marissa has great communication with her couples and she's sooo easy to get along with! She made the day so much fun with her bubbly personality. Our favourite photos from our wedding would have to be the first look! I love the emotions Marissa captured and it was so perfect! I wouldn't change a thing about our wedding day and I am also very impressed with how quickly Marissa sent out sneak peeks (and the amount of them!) I've already recommended Marissa to a few engaged friends of mine and hoping they make the great decision of hiring you! I am truly looking forward to working with you again in the future!!